Dune by Frank Herbert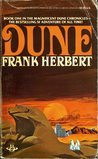 A gripping tale about political intrigue and religious fervor on a desert planet, though access to dune buggies would have made the book shorter and more interesting. Also cinnamon/spice lets you consolidate power as well as make delicious baked goods.
Spoiler Alert: I'm pretty sure the planet is inhabited by those creatures from the movie Tremors.
I give it 4 out of 5 Dune Buggies
Next week's review, gone is a girl.